Facebook may start using hashtags as next advertising ploy
The Wall Street Journal reports that Facebook is working on incorporating hashtags into its social network. Introducing hashtags may be an advertising ploy, but what does it say about the future of Facebook's user experience and brand?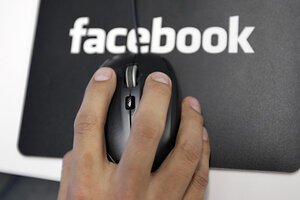 Paul Sakuma/AP/File
The Wall Street Journal reports that Facebook plans to start using hashtags. The symbol, popular on Twitter and other online services, helps users categorize their ideas and spread inside jokes. Facebook may adopt the hashtags to improve search rankings and, above all, appeal to advertisers.
The hashtag emerged on Twitter shortly after it launched in 2006. A hashtag is a word or phrase beginning with the pound symbol. Users take a word or phrase (with no spaces) that could refer to anything from a meme or phenomenon to a famous person. Thus, hashtags like #PopeFrancis, #BeyonceBowl, and #firstworldproblems are born.
On Facebook, hashtags have received mixed reviews. Over the years, some users have ridiculed those who add hashtags to posts.
Dave Charest of Constant Contact included hashtags on a list of "25 Things That Make You Look Dumb on Facebook." It ranked fourth.
"Umm, hashtags are for Twitter," Charest wrote. "If you're just cross-posting from Twitter, that also signals that you don't care enough about your Facebook fans to create updates just for them."
---