Samsung Galaxy S4: Not a sea change, but does it need to be?
The Samsung Galaxy S4 is the successor to last year's best-selling Samsung Galaxy S3.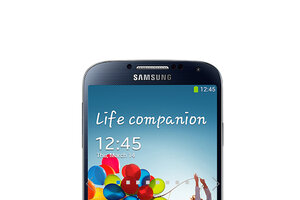 Samsung
No smartphone has generated as much hype in the past few months as the Samsung Galaxy S4. There's a good reason for that, of course: The Samsung Galaxy S3, which was released last year, sold incredibly well around the globe, and even beat out the iPhone in several markets. The term "potential iPhone killer" gets thrown around a lot, but the S3 was the first device to actually warrant the mantle.
Will the S4 enjoy the same success as its predecessor? Yesterday, at an over-the-top press event in New York City, Samsung reps took the wraps off the Galaxy S4, and from what we can tell, this phone is a monster, from the Quad-core 1.9 GHz processor to the 13-megapixel rear-facing camera and 5-inch display. (A display, incidentally, that boasts a much higher resolution than Apple's vaunted "retina display.")
Aesthetically, the S4 looks a lot like the S3 – although it is slightly slimmer, writes Peter Svensson of the AP, who yesterday took a test-drive of the S4.
---