HTC One delayed due to parts shortage: report
According to a new report, HTC is having trouble obtaining components for the camera on the HTC One smartphone.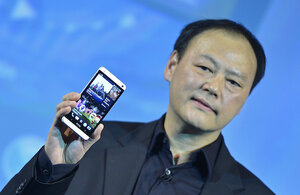 Reuters
The roll-out of the One, the new flagship smartphone from Taiwan tech giant HTC, has reportedly been delayed due to a component shortage.
And according to the Wall Street Journal (hat tip to CNET), the hold-up may have something to do with HTC's less-than-stellar performance in the international smart-phone market. In an article published today, the Journal reports that "HTC has had difficulty in securing adequate camera components as it is no longer a tier-one customer."
The top-tier customers being referenced here, of course, are Samsung and Apple, who together account for more than 50 percent of all global smart-phone shipments. Compared to them, HTC is a small fry. In fact, the company recently dropped off the list of the top five global smart-phone manufacturers.
---