Samsung smart watch in the works
Samsung executive Lee Young Hee confirmed in an interview with Bloomberg that Samsung is working on a smart watch, combining the capabilities of a smart phone and a wristwatch.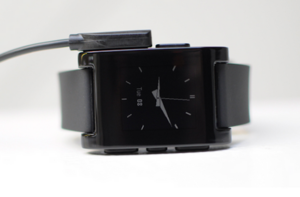 Pebble
A Samsung executive told Bloomberg that the mobile company is in the process of creating a smart watch, combining smart-phone capabilities with the convenience of a wristwatch.
"We've been preparing the watch product for so long," says Lee Young Hee, executive vice president of Samsung's mobile business. "We are working very hard to get ready for it. We are preparing products for the future, and the watch is definitely one of them."
Lee did not elaborate on what features the device would include, nor did he discuss the cost or expected release date.
The news comes after rumors have circulated about a smart watch from Apple. Bloomberg reports that about 100 product designers are said to be working on a wristwatch-like device that works like an iPhone or iPad.
Smart-watch devices have emerged on the market over the last year, one of the best examples being the Pebble smart watch. The watch is a Bluetooth-enabled device that works with iOS and Android phones. The project was introduced in a Kickstarter drive, as its team sought up to $100,000 of donations. The project ended up receiving more than $10 million, becoming one of the most successful drives Kickstarter has ever had.
Sony released a similar product last year. The Sony Smartwatch lets you pair the watch with an Android phone to view weather forecasts, control music playback, and see e-mail and other notifications on your wrist.
While the rumors about an Apple watch are unconfirmed, the news of a Samsung watch raise questions about whether it would surpass an Apple watch just as Samsung's Galaxy phones have done with the iPhones.
---