Windows Blue: Screenshots, whispers, and the promise of a fresher OS
Don't confuse Windows Blue with Windows 9. Still, the OS upgrade may pack some worthwhile goodies, including Internet Explorer 11.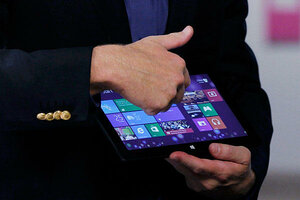 Reuters
Although Microsoft has declined to talk about it, Windows Blue – an upgrade to Windows 8 – almost certainly exists, and will most likely be hitting computers and mobile devices sometime this year. The latest Windows Blue leaks arrived over the weekend, with a series of screenshots and videos of Windows Blue, including an in-depth, hands-on WinBeta clip.
It's worth noting that Windows Blue isn't Windows 9. Nor is it an overhauled version of Windows 8. Instead, it's a rejiggering, a tweaking, a refining of the original Windows 8 OS. Among the updates: More color options and the ability to better organize, resize, and customize tiles. Multitasking will be easier with Windows Blue, says WinBeta, as will managing gads of desktop traffic.
"The biggest changes are really in the settings part of the Start Screen," Tom Warren of The Verge recently wrote. "Users can now access new networking and apps sections that provide access to additional options not available in Windows 8. Networking lets you switch connections on and off, and there's a quick way to add VPN settings too. In the new Apps section you can view how much storage apps are taking up and also take control of when notifications are shown thanks to a new quiet mode."
---