How Maria Sibylla Merian opened our eyes to nature
Google celebrates the 366th birthday of German artist and naturalist Maria Sibylla Merian, whose observations of insects and their habitats stood at the dawn of the scientific revolution.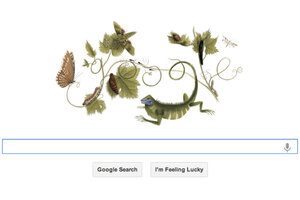 Google
In many ways, the artist and naturalist Maria Sibylla Merian, celebrated by Google Tuesday on her 366th birthday, fell victim to her own artistic talent. Ms. Merian's drawings, engravings, and paintings were so good that most people ended up ignoring the extraordinary observations that accompanied them.
A flair for the visual ran in her family. Born in Frankfurt am Main in 1647 to a patrician family of engravers, Merian began drawing and painting at an early age, eventually marrying the still-life painter Johann Andreas Graff. The two moved to Nuremberg, where Merian created embroidery designs and gave drawing lessons to young women from wealthy families. While in Nuremberg, she published three volumes of decorative drawings of flowers, designed for use by embroiderers, cabinetmakers, and other artisans.
But making pictures wasn't Merian's only passion. By the age of 13, she was already raising caterpillars, carefully noting their diets, their behaviors, and the timing of their metamorphoses.
In her thirties, she published two books of engravings of moths, butterflies, and their caterpillars, with accompanying descriptions. Then, in her fifties, she traveled with her daughter to Dutch Suriname to study insects there, in 1705 publishing "Metamorphosis insectorum surinamensium," a collection of 60 engravings, each showing a tropical insect in its full life cycle along with the native plant on which it lived. The work is widely regarded as her masterpiece.
---