Steve Jobs had a hand in next two generations of iPhone: report
Apple co-founder and former CEO Steve Jobs, who passed away in 2011, may have had a more active role in the development of the iPhone line than previously thought.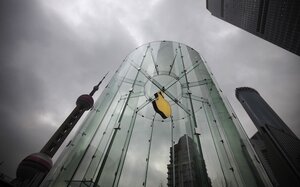 Reuters
Later this year, Apple will unveil a new iPhone, likely dubbed the iPhone 5S.
That much is not a surprise. But this is: According to Michael Foulkes, a government liaison for Apple, the next two generations of Apple smart phones were developed before current Apple CEO Tim Cook took the reins of the Cupertino company. In other words, if Mr. Foulkes is correct, former CEO Steve Jobs, who died in 2011, had a hand not only in the design of the iPhone 5, but also the iPhone 5S and whatever device will come after the iPhone 5S.
Foulkes made his comments during a conversation with San Francisco District Attorney George Gascón about how to reduce the number of thefts in the Bay Area, the San Francisco Examiner reports. Mr. Gascón wants phone manufacturers, such as Apple, to include a switch that deactivates a smart phone if it is stolen; he later called the talk with Foulkes unproductive and "very underwhelming."
---