How Kickstarter campaigns find success
Having a successful Kickstarter campaign is easier said than done. Some find that hook and go viral -- others flop. But creative and prepared entrepreneurs can find success even in failure.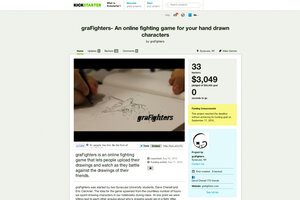 Kickstarter
Kickstarter is perhaps one of the only places where a rainbow-striped, marching band glove turned cheap, computerized instrument would get funding.
Sure enough, Scott Peterman's campaign for Imaginary Marching Band gloves gained attention within the Kickstarter community and raised the $10,000 he needed to expand the concept.
"People at the time of the Kickstarter were so nice," says Mr. Peterman, an adjunct professor at The New School in New York. "Everyone was like, 'Oh, cool! You're crazy!' and were really supportive of just craziness. It's almost kind of nonsensical in a way."
But Peterman's success story is not so common on the crowd-funding website. Kickstarter statistics show that only 43 percent of campaigns are successfully funded. While many projects stall out after a fruitless Kickstarter campaign, some projects have found great success even after failure.
Take Grafighters, a fighting game where the player draws a creature by hand, uploads the drawing, and watches the doodled gladiator come to life for battle. Eric Cleckner and Dave Chenell, the two Syracuse University students behind the game, spent the summer before their senior year refining the concept. They had a small entrepreneurial grant from Syracuse, but they wanted enough to go into full-time development.
---