PC shipments slump, Windows 8 may be to blame
A new report from IDC shows significant shrinkage in the PC market.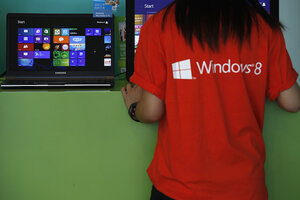 Reuters
Despite the launch of the Windows 8 operating system – or perhaps because of it – sales of PCs appear to be in free fall.
According to a new report from research analysis firm IDC, PC manufacturers shipped a total of 76.3 million units globally in the first quarter of 2013, down from 87.1 million in Q1 of 2012. IDC called it the "steepest decline ever," or at least the worst year-over-year contraction "since IDC began tracking the PC market quarterly in 1994."
The slide has affected all of the major manufacturers, IDC reports. For instance, HP, the industry leader, shipped 15.7 million units in Q1 of 2012 and "only" 11.9 million in Q1 of 2013. Third-place Dell shipped 10.1 million units in Q1 of 2012 and a little over 9 million units in Q1 of 2013. Gartner, another analytics company, also predicted a sizable drop for PC sales in this quarter. So is the PC market in trouble?
Well, yes, says Adrian Kingsley-Hughes of ZDNet. He ticks down a long list of influencing factors, including the relatively high price of PCs, the increasing power of tablets – which will become "capable of taking on tasks that currently require a PC" – and the fact that many consumers, in an era of rapidly-updated operating systems such as Android and iOS, simply don't believe Windows offers much value.
---