Zuckerberg forms Silicon Valley super PAC to take on immigration
Mark Zuckerberg's super PAC, called FWD.us, is pushing for immigration reform and a series of other issues affecting the technology industry in the United States. However, immigration advocates question how much FWD.us will help.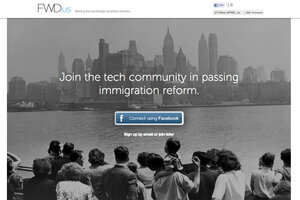 FWD.us
Mark Zuckerberg seems to be crossing into the political arena with FWD.us, a super PAC led by him and Silicon Valley's leading entrepreneurs.
The Facebook founder and CEO announced the creation of the super PAC on Wednesday in an op-ed for the Washington Post. The Super PAC will advocate bipartisan policies to build what he calls the "knowledge economy" in the United States.
These policies, which range from immigration reform to improving technology in schools, are key to creating more jobs, innovation, and investment, Mr. Zuckerberg says.
"As leaders of an industry that has benefited from this economic shift, we believe we have the responsibility to work together to ensure that all members of society gain from the rewards of the modern knowledge economy," Zuckerberg, the co-founder of the super PAC, wrote in the op-ed.
Among those on board are Google executive Eric Schmidt, Dropbox CEO Drew Houston, venture capitalist John Doerr, and investor Ron Conway.
One-third of the residents in Silicon Valley are immigrants, according to the Silicon Valley Community Foundation. This includes half of the work force and two-thirds of those under 18 in the area. The SVCF says the community is struggling with inadequate legal support services, infrastructure for both documented and undocumented immigrants, among other issues.
---