New Legend of Zelda game to hit Nintendo 3DS by end of year
The 3DS Zelda game, which does not yet have a title, will be set in the same world as Super Nintendo game The Legend of Zelda: A Link to the Past.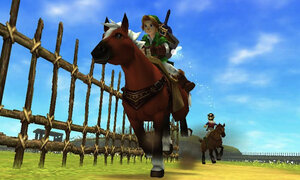 Nintendo
In a Nintendo Direct broadcast aired today, Nintendo unveiled a range of new games for the 3DS handheld, including Yoshi's Island, Mario Golf: World Tour, Donkey Kong Country Returns 3D, and an as-of-yet-untitled Zelda game set in the same world as the 1991 SNES hit The Legend of Zelda: A Link to the Past. Although Nintendo has already released a Zelda game for the 3DS, Ocarina of Time was a remake of an N64 title, not an original game.
The release date for the game will likely be later this year, and the camera perspective on the protagonist will be top-down – other than that, details remain murky. (The project doesn't even have a subtitle yet, or at least not one that Nintendo has disclosed.) So what can we expect from this new Zelda game? Well, Daniel Krupa of IGN, who got a look at some early content, says the title will likely take full advantage of the technology on the 3DS handset.
---