Google's Eric Schmidt talks WikiLeaks with founder Julian Assange
Google CEO Eric Schmidt and Jared Cohen, who runs Google Ideas, met with WikiLeaks founder Julian Assange in June 2011, according to a transcript released by WikiLeaks.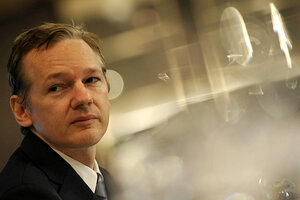 Lennart Preiss/AP/File
Google executive Eric Schmidt and former Secretary of State advisor Jared Cohen, who runs Google Ideas, decided to pay the WikiLeaks founder a visit in 2011, according to transcripts recently released by WikiLeaks. They met with Mr. Assange as part of their research for a book they wrote, entitled "The New Digital Age: Reshaping the Future of People, Nations, and Business," which is being published on April 23.
The book details how technology serves as a source of political power and how people and institutions may use it. It stems from an essay the two of them wrote in November 2010 that predicted technology would empower citizens to stand up to despotism, similar to the Arab spring and other movements, according to the New York Times.
The transcript details a five-hour conversation they had on July 23, 2011. They covered a wide range of topics, including Bitcoin, the Patriot Act, and the influence that WikiLeaks may have had on the Arab spring and the Kenyan election of 2007.
---