With budget-friendly Asha 210, Nokia takes aim at emerging markets
The Asha 210 is a smart-looking, social-networking-centric smart phone. What it's not is high-powered.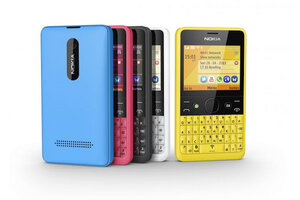 Nokia
Nokia today took the wraps off the Asha 210, a colorful smart phone (see photo above for proof) with a QWERTY keyboard, and a dedicated WhatsApp button, which allows users to easily send and receive messages across an array of platforms. The Asha 210 is relatively low-powered – witness the 2-megapixel camera and 2.4-inch QVGA display – but Nokia is betting the social networking capability more than makes up for the lack of clout.
The Asha 210, Nokia exec Timo Toikkanenhas said in a statement, has "been designed to allow people to easily update their social networks, stay in touch with friends and share user created content." Left unsaid, of course, is the target audience for the Asha 210. Because with an estimated retail price of 72 bucks, the Asha 210 will not be going up against the much more expensive Apple iPhone 5 or Samsung Galaxy S4.
---