Digital Life: Should you trust AT&T to secure your house?
For 30 bucks a month, plus a sizable installation and equipment fee, AT&T's Digital can help turn your house in a sentient being.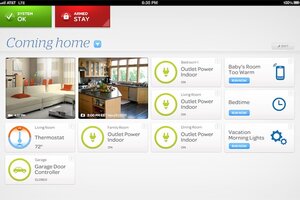 AT&T
Forget smart-phone plans. The next major initiative for Dallas-based AT&T is household security.
In a press release issued today, AT&T officially launched Digital Life, a "home management and automation system" that will allow consumers to remotely monitor and control a range of items in their house or apartment, including thermostats, small appliances, door locks, lights, carbon monoxide monitors, and security cameras. Eventually, AT&T says it hopes to roll out the program to 50 markets across the country.
For now, only folks in the following locations are eligible (deep breath): Atlanta; Austin, Texas; Boulder, Colo.; Chicago; Dallas; Denver; Houston; Los Angeles; Miami; Philadelphia; Riverside, Calif.; San Francisco; Seattle; St. Louis; and "select areas of the New York and New Jersey metropolitan area." Major regional hubs, in other words, with a couple high-profile college towns, such as Boulder, thrown into the mix for good measure.
---