For first time, smart phones edge past feature phones
There were more smart phones shipped last quarter than low-end, "dumb" phones shipped, according to a new study.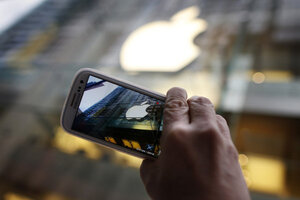 Tim Wimborne/Reuters/File
For the first time, more smart phones were shipped around the world than low-end, feature phones, according to the International Data Corporation.
The IDC's first-quarter statistics show that out of the 216.2 million phones shipped, 51.6 percent were smart phones. These numbers mark an important milestone for the mobile-phone industry in an otherwise slow quarter.
"Phone users want computers in their pockets. The days where phones are used primarily to make phone calls and send text messages are quickly fading away," says Kevin Restivo, senior research analyst with IDC's WorldWide Quarterly Mobile Phone Tracker, in a statement. "As a result, the balance of smart phone power has shifted to phone makers that are most dependent on smart phones."
In the past year, the global mobile-phone market grew by 4 percent, according to the IDC statment. The market expanded by 41.6 percent compared with the 152.7 million units shipped in the first quarter of 2012, but it was 5.1 percent lower than the 227.8 million units shipped at the end of the year.
Samsung stayed at the top with more units than Apple, LG, and Chinese vendors Huawei and ZTE combined. Its success this quarter can be attributed in part to the new features and security innovations of the Galaxy S4.
The data also shows the emergence of Chinese companies among leading smart-phone vendors. While a year ago, Nokia, BlackBerry (formerly Research In Motion), and HTC dominated the top five list, they face competition from Chinese vendors such as Huawei and ZTE, as well as Coolpad and Lenovo.
---