Galaxy Tab 3: Everything you need, but little that you want
The 7-inch Samsung Galaxy Tab 3 isn't exactly a marvel of modern engineering, but does it need to be?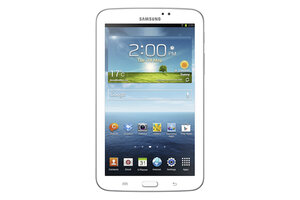 Samsung
Last spring, Samsung launched the Galaxy Tab 2, an Android-powered tablet priced at $250. Today, Samsung has taken the wraps off the Tab 2's successor, the Galaxy Tab 3. The Tab 3 (not exactly a rousing name) is relatively well-equipped: 7-inch screen, 1.2 GHz dual core processor, 3-megapixel camera rear camera and 1.3 -megapixel front camera, 8GB or 16GB of storage, the Android 4.1 OS, and a thinner build than the Tab 2.
Samsung will aim for a May launch date for the Wi-Fi Tab 3; a 3G version will follow in June.
It's worth pointing out that the reaction to the Galaxy Tab 3 – and how do we put this politely? – hasn't exactly been ecstatic.
The device is "underwhelming," says TechCrunch, with a spec list that "sounds like it could've been released a year or two ago." Ars Technica points out that the Tab 3 sure does look a whole lot like the Tab 2. And over at Gizmodo UK, Jamie Condliffe calls the device "yet another boring new Android slate."
---