Move over, Siri. Google Now is coming to the iPhone, iPad.
Google Now launches this week on iOS, as part of an update to the Google Search app.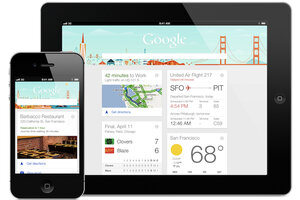 Google
Back in July of 2012, Google launched a digitized personal assistant known as Google Now. The platform, which was clearly intended to compete with Apple's Siri, was originally available only for Android tablets and smart phones. This week, it finally hits the iPhone and iPad, as an update to the already-formidable Google Search iOS app.
"Google Now is about giving you just the right information at just the right time," Google's Andrea Huey wrote in a blog post today. "It can show you the day's weather as you get dressed in the morning, or alert you that there's heavy traffic between you and your butterfly-inducing date – so you'd better leave now! It can also share news updates on a story you've been following, remind you to leave for the airport so you can make your flight and much more."
Google Now is organized by "cards" that show information meant only for you – local train schedules, for instance, or a 10-day weather forecast. You can use Now to remind you of upcoming appointments, or to make sure a particularly important event gets on the calendar; as is the case with Apple's Siri, the whole orchestra of information can be managed by voice control. Handy!
---