HTC First, the much ballyhooed 'Facebook phone,' gets massive price drop
AT&T has dropped the price of the HTC First from 100 bucks to 99 cents (with a contract, of course).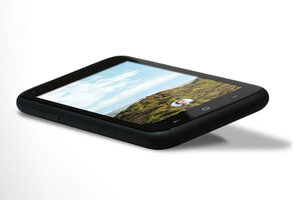 HTC
The HTC First, the first Android device to come pre-equipped with the Facebook Home software suite, originally launched with a price tag of $99.99.
Six weeks later, and AT&T has slashed the price of the First to 99 cents – an indication that the much ballyhooed "Facebook phone" may be off to a less than stellar start. Some caveats: AT&T has told CNET that one-off price drops are standard operating procedure. And HTC hasn't yet disclosed exactly how many First handsets it has sold – we won't get those numbers until the release of the Q2 2013 earnings report.
Still, it's extremely unlikely that AT&T would knock 99 bucks off the price of a solidly-performing smart phone. Analysts guess that sales are sluggish, if not really slow. Which is too bad, because the HTC First – equipped as it was with a high-quality 4.3-inch display, a 1.4GHz dual-core processor, and the Android 4.1 operating system – got a relatively warm critical reaction when it first hit shelves. For a mid-tier phone, this was one to check out.
---