LulzSec hackers sentenced to prison time for role in 2011 cyber attacks
Sentences for the four LulzSec 'hacktivists' ranged from a 20-month suspended sentence to 32 months in prison.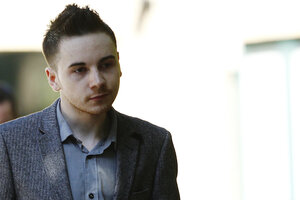 Reuters
A British court has sentenced three members of the "hacktivist" group LulzSec to prison terms for their role in a series of 2011 cyber attacks. According to the BBC, the three men – Ryan Cleary, Jake Davis, and Ryan Ackroyd – received sentences ranging from 24 to 32 months. A fourth man, Mustafa al-Bassam, was handed down a 20-month suspended sentence.
"The harm they caused was foreseeable, extensive and intended," Andrew Hadik, a lawyer for the Crown Prosecution Service, said in a statement this week. "Indeed, they boasted of how clever they were with a complete disregard for the impact their actions had on real people's lives. This case should serve as a warning to other cybercriminals that they are not invincible."
---