The Xbox One: Meet Microsoft's new gaming console
At a press event today in Washington, Microsoft reps introduced the Xbox One, the successor to the Xbox 360.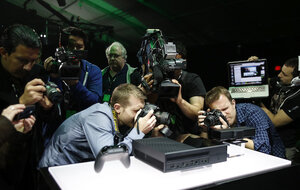 Reuters
Call it the week of the next-gen console.
Yesterday, Sony released a teaser video for the PlayStation 4 (although the video, as we noted, was blurry enough to make us wonder if we need glasses). Today, Microsoft has officially unveiled the Xbox One – the voice-powered, Kinect-enhanced, Blu-ray- and Skype-equipped successor to the Xbox 360.
"With Xbox One, games push the boundaries of realism, and TV obeys your commands," Microsoft reps wrote in a press release today. "Say 'Xbox On' to launch your personalized Xbox One Home screen, discover what is popular on TV or see friends' latest gaming achievements all using the most natural interface – your voice. The more you interact with Xbox One, the more it gets to know you and learns what you like."
A console that is also your best friend! Sounds a little frightening. Here's some other points we know about the Xbox One: It will get a 500GB hard drive, 8GB of RAM, a whopping eight-core processor, a pair of HDMI ports, and a "deep and rich liquid black" finish with a "distinctive beveled edge." And it will ship with a range of titles, including Call of Duty: Ghosts and FIFA 14.
---