Xbox One: More entertainment hub than mere gaming console
Microsoft knows the console market is in trouble. Which is why the new Xbox One is much more than simple video game machine.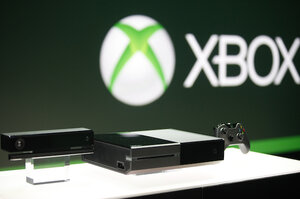 Reuters
Earlier this week, Microsoft took the wraps off the Xbox One, the successor to the best-selling Xbox 360 console.
The Xbox One is a powerful gaming machine. It has an eight-core processor, 8GB of memory, and it will ship with a new iteration of the Kinect motion-sensing peripheral. Among the launch titles are Forza Motorsport 5 and the highly-anticipated first-person shooter Call of Duty: Ghosts.
But at a time when dedicated console sales are nose-diving, and more people are playing casual games on their smart phones and tablets, the One needs to be more than a gaming machine. It needs to be an all-purpose entertainment machine – something Microsoft clearly understands.
"Xbox One is designed to deliver a whole new generation of blockbuster games, television and entertainment in a powerful, all-in-one device," Microsoft exec Don Mattrick said in a statement yesterday. "Our unique modern architecture brings simplicity to the living room and for the first time ever, the ability to instantly switch across your games and entertainment."
So what kind of box are we talking about, exactly?
---