Apple calls iOS 7 its biggest update since iPhone's launch
Apple tries to keep its users coming back with new iOS 7 operating system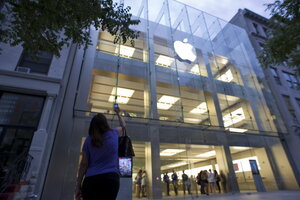 Ann Hermes / The Christian Science Monitor
Apple is throwing out most of the real-world graphical cues from its iPhone and iPad software in what it calls the biggest update since the iPhone's launch in 2007.
The new operating system, called iOS 7, strives for a clean, simple, translucent look. Apple is redesigning all its applications and icons to conform, driven by long-time hardware design chief Jony Ive.
Apple demonstrated the new software at the Worldwide Developers Conference in San Francisco on Monday. The new design direction was widely expected and will show up on iPhones, iPad and iPod Touches this year, the company said.
The overhaul comes at a time when rivals such as Samsung Electronics and Google are trying to get people to defect by developing their own lines of elegant and often less expensive products.
The stiffer competition has slowed Apple's growth in the increasingly important mobile device market, contributing to a 38 percent decline in the company's stock price since the shares peaked at $705.07 in September.
Wall Street didn't seem impressed with Apple's new software approach. Apple's stock dipped $2.92 to close Monday at $438.89.
The redesigned software uses simple graphical elements in neon and pastel colors. Gone is the effort to make the icons look like three-dimensional, embossed objects — a tactic known as "'skeuomorphism," that was favored by Apple's late CEO and co-founder Steve Jobs.
---