Franz Kafka: Should we have never known him?
Franz Kafka told his friend to burn his work. His friend did not follow Kafka's instructions, but should he have?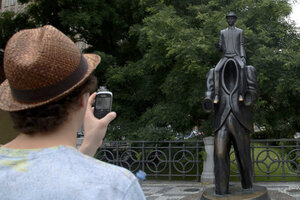 Petr Josek/REUTERS
Franz Kafka had been diagnosed with tuberculosis. He had only a slim file of work (throughout his life he burned most of what he had written) and now that he was dying, he wanted what remained of his work to be burned as well. So he gave it to his friend.
"Dearest Max, My last request: Everything I leave behind me … to be burned unread," he wrote to his friend Max Brod, in 1924.
But Brod did not burn anything. Instead, he published "The Trial" and "The Castle," and in 1939 he packed up the rest of the now precious writing in suitcases to take to Palestine, after the Nazis invaded Czechoslovakia.
The contents of those suitcases, which passed next to Brod's secretary and then to her daughters, would become the subject of a legal battle fraught with ideological overtones: The Israeli National Library sued for the rights to all the writing; the daughters say they legally inherited them; and the German Literature Archive, which bought some of the letters from the daughters in auction, said they owned what they paid for. In 2012, a Tel Aviv court ruled in favor of the Israeli library, and the decision is under appeal.
---