Former head of CIA: Huawei engaged in espionage for Chinese state
Former CIA chief Michael Hayden accused the Chinese telecom company Huawei of colluding with the Chinese government.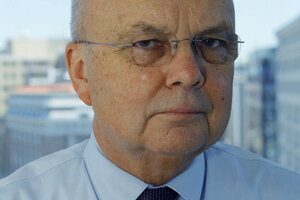 Gary Cameron/ Reuters/ File
Hard evidence exists that Chinese telecommunications giant Huawei has engaged in espionage on behalf of the Chinese state, according to the former director of the CIA.
"At a minimum, Huawei would have shared with the Chinese state intimate, and extensive knowledge of the foreign telecommunications systems it is involved with," says General Michael Hayden in an exclusive interview the Australian Financial Review that was published on Friday.
Mr. Hayden served as the director of the Central Intelligence Agency from 2006 to 2009 and the National Security Agency from 1995 to 2005.
Huawei responded, calling Hayden's comments "tired, unsubstantiated, defamatory remarks," according to a statement that Huawei global cyber security officer John Suffolk e-mailed to Reuters.
"Our customers have the right to know what these unsubstantiated concerns are," Mr. Suffolk wrote, calling on Hayden and other critics to present hard evidence along with their grievances. "It's time to put up, or shut up."
Huawei is one of the world's largest telecom companies. The company is a supplier of equipment including routers and Ethernet cords, and also hosts cloud storage.
---