LG G2 phone banishes all buttons to the back of the device
LG claims the G2 is 'the first smartphone to be completely devoid of side buttons.' Will anyone care?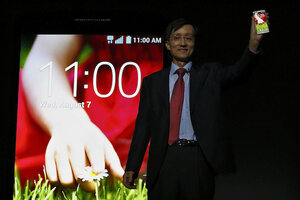 Reuters
A high-end smart phone with all the physical buttons on the back.
That's the elevator pitch for the LG G2, the not-very-imaginatively-named phone unveiled today by LG Mobile CEO Jong-Soek Park in New York. According to Mr. Park – and big hat tip to Matt Hamblen at Computerworld – "relocating power and volume buttons to the back... changes the way we interact with the form. Simply everything is more convenient."
To be clear, in most other ways, the LG G2 looks and acts like a regular smart phone. There's a 5.2-inch HD touchscreen, a Qualcomm Snapdragon processor, the Android Jelly Bean 4.2.2 operating system, LTE connectivity, a 13-megapixel back-facing camera and a 2.1-megapixel front-facing one. But it's those buttons, which on devices such as the iPhone are usually on the front of the handset, that have garnered the most attention.
Here's a blurb from the press release for the G2, which LG says is "the first smartphone to be completely devoid of side buttons":
---