New plans and iPhone help T-Mobile snag 1.1 million new customers
The question now is how long T-Mobile's gains, which includes the strongest consumer growth in four years, will last.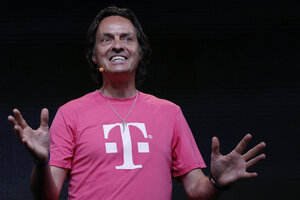 Reuters
Earlier this year, T-Mobile USA announced it would do away entirely with contracts and instead allow consumers to purchase an unsubsidized phone and pay for unlimited service on a month-by-month basis. Some onlookers expressed skepticism that it was really such a great deal for consumers – even if the "un-carrier" plan also arrived in lockstep with the long-awaited introduction of the T-Mobile iPhone 5. 
But today T-Mobile affirmed that the whole thing is working very well, thank you very much.
How well? Let's go to the numbers: According to T-Mobile, in the second quarter of 2013, the company added 1.1 million new customers, including 685,000 contract subscribers – apparently the strongest growth that T-Mobile has enjoyed in four years. Unsurprisingly, revenue is also up, by 27.5 percent year-over-year. 
"T-Mobile's Un-carrier approach has clearly resonated with consumers," T-Mobile chief John Legere said in a statement. "By fixing the things that drive them mad, like contracts and upgrades, and freeing them from the two-year sentences imposed on them by our competitors, they are choosing the new T-Mobile in unprecedented numbers." 
T-Mobile is currently the fourth-largest carrier in the US, lagging behind Verizon Wireless, AT&T, and Sprint. Obviously the second quarter numbers are extremely good news for T-Mobile. But some analysts have wondered whether this isn't a temporary bump that can be attributed to the iPhone 5 and the noise surrounding the initial "un-carrier" announcement. 
"The question remains as to whether [T-Mobile] can sustain the performance in postpaid as the iPhone buzz fades and competitive intensity rises," New Street's Jonathan Chaplin cautioned in a research note obtained by Reuters. 
---