Virgin Galactic's SpaceShipTwo soars in rocket-powered flight test
Richard Branson's quest for commercial space travel flies 65,000 feet closer to fruition.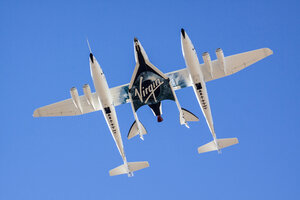 Kenneth Brown/Aerospace Photography
A private Virgin Galactic spaceship built to carry passengers on suborbital joyrides aced its second powered test flight Thursday (Sept. 5), breaking the sound barrier as it roared through the skies here over the Mojave Desert.
Virgin Galactic's SpaceShipTwo soared skyward on a column of bright orange flames and white smoke after being released from its WhiteKnightTwo mother ship.
In a blog post published after the test, Virgin Galactic's founder, British billionaire Sir Richard Branson, said the spaceship was released at 46,000 feet (14,000 meters) and burned its hybrid rocket engine for 20 seconds, which was four seconds longer than on the previous flight. The craft reached a maximum altitude of 65,000 feet (19,812 m) and a top speed of Mach 1.6, Virgin Galactic officials said in a statement.
"This is a giant step," Branson wrote on his blog. "Our spaceship is now the highest commercial winged vehicle in history! We also successfully tested its feather system for carefree re-entry too — the first time that's happened on a rocket-powered flight."
Test pilots Mark Stucky and Clint Nichols put the six-passenger spaceship through its paces, conducting a test of the feather re-entry system for the first time in powered flight before guiding the vehicle to a safe touchdown on Runway 30 at the Mojave Air and Space Port.
---