How Google helps people seek refuge from Colorado floods
Google Crisis Maps and other digital media are becoming the go-to resource for those in a crisis, most recently those affected by the Colorado floods. But with any natural disaster, sometimes the crisis moves faster than what can be mapped.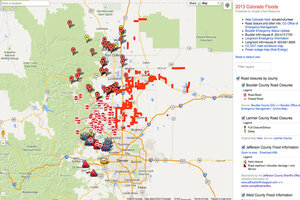 Google
When Nick St. George needed to give his girlfriend directions from South Dakota back home to Denver last Saturday, he relied on Google Maps. But with the northern route into Denver riddled with massive flooding, road closures, and power outages, Mr. St. George turned to Google for an extra reason: safety. Using the Google Crisis Map and COtrip.org, he was able to guide her through treacherous conditions created by more than 30 inches of rain, plus ensure her home in Longmont, Colo., was out of harms way.
"It was definitely a source of great relief in a time of uncertainty," he says.
Coloradans in crisis have turned to Google Maps, the Federal Emergency Management Agency (FEMA), social media, and other digital tools to find resources and map routes, often successfully reaching their destination (and knowing whether that destination is in a flood zone). But as with any natural disaster, a flood moves faster than the Internet. This has left some residents piecing together what information they can as the technology catches up.
---