YouTube goes Internet-less: offline videos available in November
YouTube viewers with mobile devices will soon be able to check out videos offline, a big shift from YouTube's previous ban on downloads.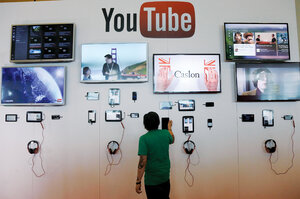 Jeff Chiu
In November, YouTube will roll out a new feature for its mobile application that allows users to view videos from the site while offline.
Now viewers' ability to watch YouTube won't be interrupted by "something as simple as a morning commute" says YouTube on its Creators blog on Tuesday.
The service will allow users to pre-download videos from YouTube that can be streamed while offline. The amount of video that YouTube to will allow each user to download is yet to be announced, but the feature will be hosted on YouTube's app on Android and iOS. According to AllThingsD.com, ads will still be run on the videos and viewers will be able to save the clips on their phone for up to 48 hours.
This builds off Google's experimentation with Preload, a feature that YouTube added to its Android app this summer. With Preload, customers could store videos from their channel subscriptions or "Watch Later" list for later mobile playback. However, in that case, customers had to watch at least one second of the video online before they could store it.
---