iOS7 upgrade: It's all about the swipe
iOS7 is free and available today. iOS7 includes swiping features, iTunes Radio, more camera filters, a better Siri and better Apple Maps.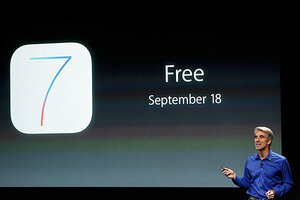 REUTERS/Stephen Lam
The changes to Apple's iOS software became apparent as I drove to the headquarters of the company's rival, Google. As I navigated using Apple's mapping app, I noticed one of my favorite attributes was missing: the directions for each next turn presented in green boxes that resemble highway signs.
Many of the changes in Apple's operating system for mobile devices are cosmetic. Gone are three-dimensional icons that mimic real-world counterparts, such as a magazine rack for the Newsstand app. They are replaced by larger, two-dimensional icons sporting abstract designs and pastel colors. Apple also extended that new look to many of its apps. In Maps, the green boxes are replaced with solid white across the top.
It didn't take long to realize that deeper down, the new iOS 7 software is the same as the one I've come to know.
The new software does have several functional improvements, but those could take time to stumble upon. The good news is that even if you never discover them, you can still use your device the way you did before. The free update is available starting Wednesday. [There's no official release time but in the past Apple has released updates at 10 a.m. Pacific Time]
I'm covering the features specific to Apple's new iPhone 5S and 5C in a separate review. This one is about whether it makes sense to upgrade to iOS 7 on your existing iPhone or iPad.
---