Microsoft's Ballmer dishes on Nokia deal and the future of PCs
'We have almost no share' in the smart phone market, Microsoft CEO Steve Ballmer has acknowledged.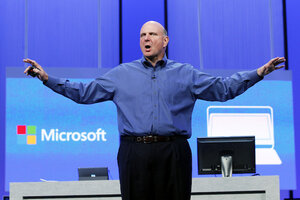 Reuters
Earlier this month, Microsoft announced it would acquire cellphone maker Nokia – and the right to license its lucrative patents – in a deal worth an estimated $7.2 billion. The move was widely seen by analysts as a way for Microsoft, which has struggled to drum up interest in its Windows Phone mobile software, to better compete against rivals such as Apple and Android.
But in a meeting yesterday with financial analysts, Microsoft chief Steve Ballmer acknowledged it would be an uphill battle. "We have almost no share" in the mobile phone market, he said, according to The Verge. (In the second quarter of 2013, 80 percent of all smart phone shipments were comprised of Android phones, Strategy Analytics recently reported. Apple's iOS was second with 14 percent; Windows Phone was third, with 4 percent.)
---