iPhone 5S attracts mobs of veteran line-waiters and first-timers
The new iPhone 5S and 5C officially went on sale Friday at Apple retailers around the country. Line members say the fingerprint sensor, faster processor, and keeping up with the Joneses brought them out to the Apple store for the seventh generation of iPhones.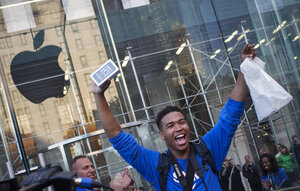 Adrees Latif/REUTERS
iPhone day 2013 has arrived. Today, customers can buy the iPhone 5S and 5C at Apple retailers and online, and the iPhone 5C online pre-orders will ship.
Apple's first two-device iPhone rollout has created buzz around the world, offering a cheaper alternative (the 5C) and a top-of-the-line phone (the 5S). Though the 5C was available for pre-order, the 5S has to be bought in-store or online, prompting characteristically long lines at Apple stores around the country.
Take, for example, the many lined up outside of the Apple Store in Boston. Their take on the new iPhones? Classy colors, speedy processing, and staying on top of the most recent technology motivated their hours, even days, of waiting.
"I don't want anyone having a faster device than I [have]," laughs Shane Getchell, from Boston, who was there to purchase the 5S. He arrived at 5:30 a.m., where there were already "hundreds" in line ahead of him, though he says the line was moving quicker than previous years.
"I like the fingerprint swipes, I'm sure it is a lot faster, and Apple always comes out with great products," he adds. "They wait too long to come out with a new product. I wish they would do it every two months."
Another line member, Josh Pitts of Boston, also says his main motivation was to stay ahead of the latest tech and to "beat the Joneses". But the features like the new camera and fingerprint sensor have him intrigued.
Sometimes, however, staying on the cutting edge can cost money beyond the iPhone.
"Somebody sold [a] pregnant lady his spot in line for an undisclosed amount of money," Mr. Pitts says. "[If I were him] I probably would have just given her the spot, but y'know, we all have to make a dollar."
---