Aereo wins latest legal battle, launches Android app
The Android app is free, but Aereo subscriptions start at $8 a month.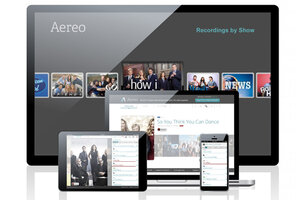 Aereo
Aereo is a New York-based start-up that uses mini-antennas to stream live TV to computers, tablets, and smart phones. Unsurprisingly, the company is extremely unpopular with broadcasters, who claim (and we're paraphrasing here) that Aereo is stealing off their shows. A slew of lawsuits have been filed in the past year.
But Aereo has won some notable legal victories: In New York and most recently in Massachusetts, where US District Judge Nathaniel Gorton has ruled this week that Aereo can continue to provide content from Boston television station WCVB.
---