Gold iPads? New Mac Pro? Apple has 'a lot to cover'
As Apple gears up for its Oct. 22 product launch – the second big event this fall – predictions are flying as gold iPhone 5Ss flew off the shelves.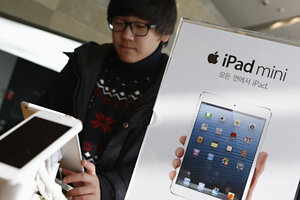 Lee Jae-Won/Reuters/File
You didn't just go to the Apple store did you?
If so, you may want to keep your receipts. Apple has another fall event Tuesday, and all signs point to an updated iPad, Mac Pro, and a bevy of other "will they or won't they" products that could reward your patience (or evidence of purchase).
Apple released invitations to an Oct. 22 event at the Yerba Buena Center for the Arts in San Francisco last week with the mysterious hint "We still have a lot to cover," with an array of brightly-colored teardrop shapes descending from the top of the invitation into a close-up of the white Apple logo.
The funky shapes could be an allusion to the almost-certain release of the new Mac Pro computer and Mavericks OSX, which Apple already revealed in June. It said the two products would likely be released later this year, and this is likely to be the last Apple event for 2013. The new Mac Pro is shaped like a small cylinder, with more power than ever before. This would likely be combined with the new Mavericks OSX, which will offer a new Safari browser, the ability to wirelessly use your TV as a second screen, and faster-processing features.
The "cover" clue is a bit more mysterious. Former Apple employee and tech blogger Jamie Ryan reports that his contacts at Apple mentioned a prototype of an iPad cover with an integrated keyboard, similar to what is seen on the Microsoft Surface devices. Currently Apple has a Bluetooth keyboard, but not one folded into a compact device, although third-party fold-up keyboards already exist.
---