Facebook updates explicit content policy
Following outcry over a violent video, Facebook takes down a "death clip" and lays ground rules for future graphic content. Though that doesn't mean violent images are leaving timelines any time soon.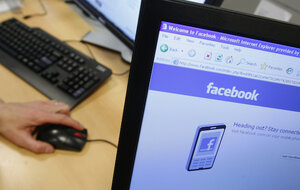 Reuters
Be wary Facebook users: beheadings may pop up on your newsfeed.
Facebook has clarified its explicit content policy, stating people are able to share graphic content – as long as it is shared to condemn it. The social media site has been flip flopping its policy over the last few months, as reports from the BBC and pressure from its safety advisors has highlighted the gray line Facebook walks as a conduit for shareable, sometimes questionable, information.
The issue started in May when the BBC asked Facebook about videos the site had allowed to be shared on the site depicting graphic violence. At the time, Facebook said, "its users had the right to depict the 'world in which we live.' " However, following a later interview by the BBC with one of Facebook's safety advisors who expressed concern over the graphic content, the site issued a statement saying they were taking down the content it had been alerted of, and would re-evaluate its policy.
This was the last Facebook users heard about it until Monday when the BBC reported that a graphic video, which was believed to be filmed in Mexico and showed a woman being beheaded by a man in a mask, was still up on the site despite users demanding it be taken down. On Monday, Facebook responded to the outrage confirming that the videos would remain on the site in order for users to "condemn" the violence, though it was considering adding a warning onto explicitly graphic content.
---