As global food costs rise, are biofuels to blame?
Converting corn and soybeans into fuels is contributing to higher food prices. The dispute is how much.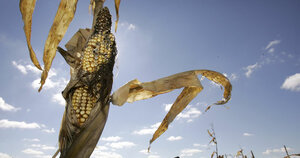 Charlie Neibergall/AP/File
The biofuels industry plans on producing record amounts of ethanol this year to meet a mandate of the new US energy law – and will need a lot of corn to do it. At the same time, global food prices are at near-peak levels. The question is, how big is the connection between those two developments?
It's a topic getting more scrutiny as the world enters 2008 with the lowest grain stockpiles on record, near-record grain prices, and prospects for even tighter supplies as global demand rises for food and fuel.
Political instability over higher food prices is a key concern. Last year saw tortilla demonstrations in Mexico, pasta protests in Italy, and unrest in Pakistan over bread prices. Soybean prices, meanwhile, prompted demonstrations in front of Indonesia's presidential palace. Food inflation in China is a major problem.
But the connection between the expansion of biofuels and higher global food prices is not clear cut, with the biofuels industry saying its impact is relatively small and biofuel critics saying that ethanol plants are driving up the price of corn and biodiesel producers are taking a bite out of the soybean crop.
---