Wave-power proposals alarm locals
US waters could supply up to 10 percent of electric needs but fast-track permits anger communities.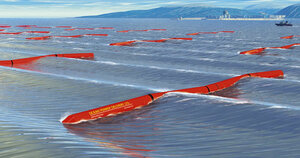 Courtesy Pelamis Wave Power
From roadless villages in Alaska to remote bends in the Mississippi River, developers are staking claim to thousands of miles of America's oceans and rivers to test devices that use waves and currents to produce electric power.
Their experiments are launching a new industry that has the potential to supply up to 10 percent of America's electric needs. But critics say rapid federal approval of the exclusive right to conduct these experiments amounts to a private seizure of communities' waterfronts.
"This process, especially in Oregon, feels like a new Klondike gold rush," says environmentalist Richard Charter, a longtime leader in ocean-protection efforts. "There are people filing claims, people jumping claims, and nobody looking at the big picture. The most amazing part of this power gold rush is that it seems to be happening entirely under the national radar."
Many state and federal agencies, as well as surprised local communities, argue that the permitting process under the Federal Energy Regulatory Commission (FERC) is too rapid and prevents local input.
---