Solar energy trumps shade in California prosecution of tree owner
Across a backyard fence: When is the environmentalism greener on the other side?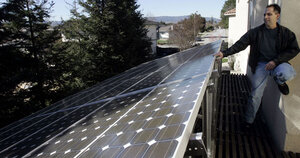 Jeff Chiu/AP
It started as a typical over-the-back-fence suburban neighborhood chat, not the kind of thing that would escalate into a criminal prosecution. Carolynn Bissett and her husband, Richard Treanor, were pulling weeds in their backyard on Benton Street here on a July day in 2001, when their neighbor Mark Vargas peeked over the fence for a chat.
Mr. Vargas said he planned to install solar panels on the trellis behind his house – meaning he needed access to sunlight. But the row of eight 10- to 25-foot redwoods along that edge of the couple's backyard would have to go – or be shortened, or perhaps replaced with smaller trees.
They asked Vargas to come discuss the matter in their backyard.
So, in a suburban odyssey symbolic of the chasm between people with different ideas of how to use nature, he got in his car and drove nearly a mile to his neighbors' front door. The two families have adjacent backyards, but in suburbia's labyrinth, there is no easy walk between them. So their front doors stand in two different cities – Sunnyvale and Santa Clara.
Perhaps that disconnect foreshadowed what would transpire. Accounts of the backyard discussion differ – whether or not Vargas offered to pay for tree removal, or who first threatened legal action – but one thing is certain: The parties haven't spoken since.
The ensuing paper chase through city ordinances, planning commissions, and permit hearings has consumed seven years and tens of thousands of dollars in legal fees, and – through California's obscure 1978 Solar Shade Control Act, which criminalizes the shading of solar panels by trees – resulted in the Santa Clara County District Attorney prosecuting Mr. Treanor and Ms. Bissett.
---