Why Europe backpedals on biofuel targets
Ethanol and other biofuels are boosting food prices and greenhouse gases, says a new British report.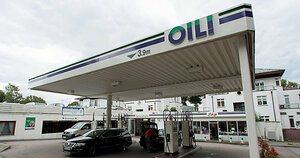 NEWSCOM
Europe is signaling a retreat from its bold commitment to biofuels as concern mounts that the plant-based alternative to gas and diesel, once heralded as a panacea for climate change, is contributing to spiraling global food prices.
Officially, the 27-nation European Union is sticking to a target that will require 10 percent of motor vehicle fuel to be derived from renewable sources by 2020, as part of overall efforts to reduce carbon emissions by 20 percent.
But official backpedaling is on the rise. The British government indicated Monday it would take a more cautious approach following an official report that raised multiple warnings about the technology, specifically that it contributes to high food prices and may create more greenhouse gas emissions than it prevents.
The European Parliament meanwhile is to vote later this year on a proposal to lower the EU target to just 4 percent by 2015, after a committee of lawmakers supported the measure Monday.
Rumblings of disaffection with biofuels have resonated from French politicians, who pooh-poohed the 10 percent target last week, to Germany, where the government has scrapped tax breaks for green fuels.
"It would be foolhardy at the moment on the evidence that we have got to say we should go headlong in pursuit of biofuels," Ed Gallagher told the BBC. He's the author of the British report, which called for Britain's own targets to be reduced. "At the moment, on the evidence that we have got, getting to 10 percent is going to be very difficult without causing environmental damage and an effect on food prices."
---