A town's bold plan to harness offshore wind
Hull, Mass., could become the first US community to host an offshore wind farm.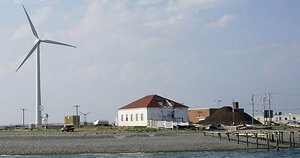 Eloise Quintanilla
They would sit a mile and a half offshore from a popular beach, four 454-foot towers with blades as long as two basketball courts. If the plan gets quick approval, the town of Hull, Mass., would be powered almost entirely by wind and become the first American community with an offshore wind farm.
More than two dozen offshore wind farms have been proposed for cities up and down the East Coast and on the Great Lakes. But unlike those developer-driven plans, Hull's effort was conceived internally. And while a much larger offshore wind project off the coast of Cape Cod, Mass., 60 miles to the south, has spurred controversy, Hull's residents are embracing wind power.
Indeed, the town's move has little to do with being "green."
"It's all about lowering our electricity bill," says longtime resident Suzanne White, who works at Weinberg's Bakery, a gathering place for a group of retired men who discuss town news and politics. "It's a positive thing because eventually we won't be able to afford oil."
That Hull, once a popular beach town, wants to rely on wind power is a sign that the industry is gaining mainstream acceptance.
"If it can be done here," says Town Manager Philip Lemnios, "it can probably be replicated in a lot of other places."
A 45 percent growth in wind power
Nationally, wind power has been on a tear. The industry grew 45 percent last year and is on track to surpass last year's growth, according to the American Wind Energy Association, pending Congress's decision whether to extend federal tax credits for alternative energy. Now with generators already up or slated to be built on the choicest wind locations in the United States, developers are looking increasingly offshore.
Western Europe, already short of land, moved to offshore wind farms 20 years ago. They now generate 1,000 megawatts of electricity. In the US, plans are just getting under way.
---