It's a landfill – and an ecopark
Singapore's only landfill is more like a recreation area than a dumping ground.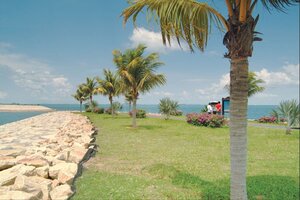 Courtesy of Singapore National Environment Agency
A typical landfill isn't the sort of place where residents have peaceful picnics and take nature walks or go to stargaze. But Singapore's Semakau landfill is far from ordinary.
Pulau Semakau – where Singapore's only landfill is located – is a 20-minute ferry ride from the mainland. Its appearance can come as a surprise: turquoise waters, flowering shrubs, a carpet of grass, and nature-enhancing landscaping. Egrets skim the waters of artificial lagoons that are actually dormant refuse cells. Anglers also use them for sport fishing. It seems more like a recreation area than a dumping ground.
Actually, it's both.
Singapore, located at the tip of the Malay Peninsula in Southeast Asia, has become increasingly prosperous since it became an independent republic in 1965. As a result, its trash has doubled every decade until currently – the volume is close to 8,000 tons a day, even after stringent recycling.
Unlike larger countries, this densely populated island – smaller than the US state of Rhode Island – cannot banish refuse to the hinterlands. And using precious space as a dumping ground to be greened later is an unaffordable luxury.
When Singapore's previous landfill was filled up in 1999, the tiny nation had to find a new way to dispose of its refuse.
"Scarcity of land means that an offshore landfill is our only viable option for solid-waste disposal," says Ong Chong Peng, general manager of the Semakau landfill.
---