Jon Wellinghoff, Obama's energy futurist
The chairman of the Federal Energy Regulatory Commission is committed to renewable energy.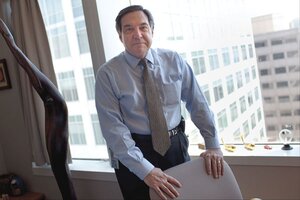 Michael Bonfigli/Special to The Christian Science Monitor
When giving his slide presentation on America's new energy direction, Jon Wellinghoff sometimes sneaks in a picture of himself seated in a midnight blue, all-electric Tesla sports car.
It often wins a laugh, but makes a key point: The United States is accelerating in a new energy direction under President Obama's newly appointed chairman of the Federal Energy Regulatory Commission (FERC). At the same time, FERC's key role in the nation's energy future is becoming more apparent.
Energy and climate legislation now pending in Congress would put in FERC's hands a sweeping market-based cap-and-trade system intended to lower industrial greenhouse-gas emissions.
Besides its role granting permits for new offshore wind power, the agency is also overseeing planning for transmission lines that could one day link Dakota wind farms to East Coast cities, and solar power in the Southwest to the West Coast.
"FERC has always been important to power development," says Ralph Cavanagh, energy program codirector for the Natural Resources Defense Council, a New York-based environmental group. "It's just that people haven't known about it. They will pretty soon."
That's because Mr. Wellinghoff and three fellow commissioners share an affinity for efficiency and renewable energy that's not just skin-deep, Mr. Cavanagh and others say.
---