Better lives in Bangladesh – through green power
The environmental arm of a Nobel Prize-winning community development bank brings solar power, biogas, better stoves, and economic opportunity to rural residents.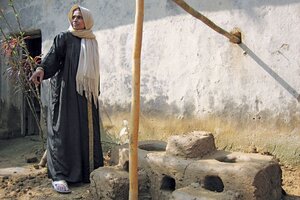 Lisa Schroeder
Here in the Bangladesh countryside, amid the emerald-green rice paddies and farmers threshing crops with their bare feet, are beige cows, giant haystacks... and solar energy panels – 200,000 of them scattered throughout the country.
This clean-electricity source is part of an innovative program conducted by Grameen Shakti, the environmental arm of Grameen Bank, which won a Nobel Peace Prize for its pioneering use of microloans in Bangladesh.
Its projects also include biogas production, improved cookstove technology, and solar power training centers for women.
Grameen Shakti (meaning "village energy" in Bangla) was started in 1996 as a way to bring electricity and better living standards to the country's rural poor. "At that time, 85 percent [of the total population of 140 million] had no electricity," says Dipal Barua, the nonprofit group's managing director.
He's speaking from his 19th floor office, which is lined with solar panel prototypes and overlooks the country's capital, Dhaka.
When Grameen Shakti began, about 120 million people in the country didn't have access to a source of electricity, he says. Most were poor rural residents living in primitive conditions. By providing electricity to them, the organization hoped it would also help increase education rates and economic opportunities.
Now, 13 years after the program's inception, its efforts reach almost 2 million people in every part of Bangladesh.
---