Earth Talk: Community-wide solar cuts costs
Collective solar groups help entire neighborhoods use clean energy.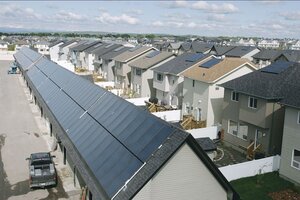 Courtesy of Mike Ridewood/Natural Resources Canada
Q: I know of solar power systems that people can put on their roofs to generate electricity or heat water. Are there systems that serve whole neighborhoods?
– Lee Helscel, via e-mail
A: Collective bargaining is a good strategy when looking to get the best price on a given product or service. Solar power is no exception, and dozens of neighborhood-wide installations in the US and Canada have created a new model for going solar.
One of the first neighborhood-wide solar installations in the world was at the master-planned community of Drake Landing in the town of Okotoks in Alberta. The entire community is heated by a "borehole thermal energy" system designed to store abundant solar energy underground during the summer and distribute it to each home as needed for space heating throughout the winter. The system, which launched in June 2007, now fulfills some 90 percent of each home's space heating needs, with any slack taken up by fossil fuels.
---