Five years, 5 billion downloads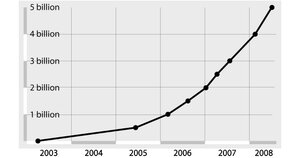 Chris Gaylord
Here's another big download record this week. Apple announced yesterday that iTunes sold its 5 billionth song. The five-year-old MP3 store took a while to get going, but as of February has become the biggest music retailer in the US – even surpassing Wal-Mart.
Fortune framed it well: "This represents a significant acceleration in music sales. It took Apple (AAPL) nearly three years to sell its first billion songs (Feb 23, 2006), ten months to sell its second billion (Jan. 6, 2007), seven months to sell its third (July 31, 2007) and fourth billion (Feb. 27, 2008), and only three and a half months to sell its fifth (June 19, 2008)."
Put another way: Over the past two years, the music store has sold an average of 4.7 million songs per day – or 54 songs a second.
---