Gadgets for the bicycle commuter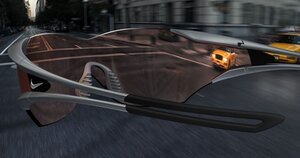 Designer Billy May
As a daily bike commuter here in Boston (yes, even in the winter), I'm always on the lookout for gadgets that will make my ride safer, faster, or more convenient. Here's a sampling of what's popped up on my radar in the past few weeks.
Nike Hindsight glasses ($TBA)
Though just a designer's concept from what I can tell, these futuristic wrap-around shades claim to add an additional 25 degrees of peripheral vision to a rider's view. Fresnel lenses – first developed in the 19th century for lighthouses – at the temples of the glasses make this possible.
Anything that helps riders be more aware is a good thing, but nothing is a substitute for the type of survival awareness one develops when out on the roads. Inexperienced city cyclists shouldn't let this – or any gadget – replace caution and road awareness.
Cordarounds Bike to Work pants ($90 online)
Reflective accents are common on backpacks, athletic shoes, and jackets, but business-casual khakis? The inside of these innovative trousers is lined with Illuminite Teflon and 3M Scotchlite reflective fabrics. The result is that when a rider rolls up a pant leg or two (usually done to avoid grease stains from contact with the bike's chain) he exposes the reflective side of the otherwise normal-looking slacks.
---