Yeah, but does it get Netflix?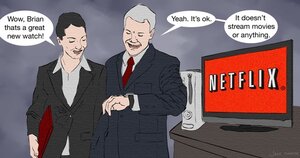 Jake Turcotte
Televisions from LG today joined the growing list of products able to stream movies instantly from Netflix. The Korean electronics maker announced it would debut a line of broadband-enabled TVs at CES, the Consumer Electronics Show held in Las Vegas this week.
The high definition sets join LG and Samsung Blu-ray players, the popular Microsoft XBox 360 gaming console, TiVo digital video recorders, a set-top box from Roku, and Mac and Windows computers in being able to stream any of 12,000 titles to a Netflix member's screen instantly.
But the TV represents the killer app – a straight connection from the web to the tube. The New York Times quotes Netflix CEO Reed Hastings: "It's hugely symbolic.... The holy grail has always been to give the TV an Internet jack in addition to the cable jack. It's an early glimpse of the long-term future."
---