Did hackers break into a top-secret USAF program?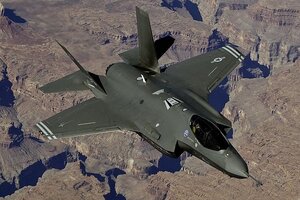 Photo courtesy of the United States Air Force.
Hours after the Wall Street Journal revealed that hackers may have gained access to the much vaunted F-35 Joint Strike Fighter Project, a top Pentagon spokesman told reporters that he was "not aware of any specific concerns." According to Reuters, Bryan Whitman played down worries today that a security breach has affected the top-secret program, but declined to address the allegations first aired by WSJ reporters Siobhan Gorman, August Cole, and Yochi Dreazen.
The WSJ article quoted unnamed US defense officials, who said that similar attacks had also penetrated the Air Force's air-traffic-control system, in a series of attacks over recent months:
In the case of the fighter-jet program, the intruders were able to copy and siphon off several terabytes of data related to design and electronics systems, officials say, potentially making it easier to defend against the craft... In addition, while the spies were able to download sizable amounts of data related to the jet-fighter, they weren't able to access the most sensitive material, which is stored on computers not connected to the Internet.
---