David Letterman, electric car evangelist?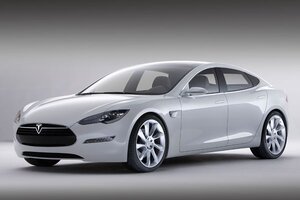 Newscom
Well, that was a shocking development.
Jay Leno is usually the late-night host that comes to mind when discussing matters automotive. But his biggest competitor took a turn in the driver's seat last week when he hosted Tesla Motors founder and CEO Elon Musk on CBS's "Late Night With David Letterman."
The Silicon Valley CEO came on to tout his company's upcoming Model S. The four-door, all-electric car is due out sometime in 2011, and comes in at half the price of its $100,000 two-seat older brother.
A hoarse Letterman spent the majority of the interview bemoaning the troubles that befell the electric car industry in the '90s. One got the feeling that the TV host had just finished watching "Who Killed the Electric Car?" before stepping onstage.
---