Craigslist shuts its 'Internet brothel.' Will it matter?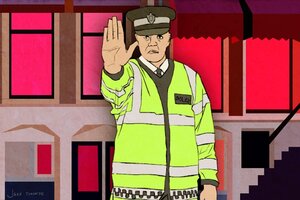 Illustration by Jake Turcotte
Under heavy fire from critics across the country, the classified advertising site Craigslist today announced it would shutter its "erotic services" category. In a statement, a Craigslist spokesman sought to play down "the sensationalistic journalism we've seen these past few weeks" – a reference to the furor surrounding the capture of the so-called "Craigslist killer." The statement went on to assert that "use of Craigslist classifieds is associated with far lower rates of violent crime than print classifieds, let alone rates of violent crime pertaining to American society as a whole."
Still, the company said it would remove the "erotic services" category within seven days:
Effective today for all US sites, a new category entitled "adult services" will be opened for postings by legal adult service providers. Each posting to this new category will be manually reviewed before appearing on the site, to ensure compliance with craigslist posting guidelines and terms of use. New postings will cost $10, but once approved, will be eligible for reposting at $5.
The announcement was lauded in law enforcement circles. Connecticut Attorney General Richard Blumenthal, who met with the Craigslist team in New York recently, and has called the site a "blatant Internet brothel," said that, "Craigslist is heeding our clear call for conscience and common sense, sending a strong signal that Internet sites must police themselves to protect others."
---